University of Queensland Press (UQP) has been awarded the 2022 Australian Small Publisher of the Year Award, beating an outstanding field of entries to claim the country's most prestigious publishing prize for the second year in a row.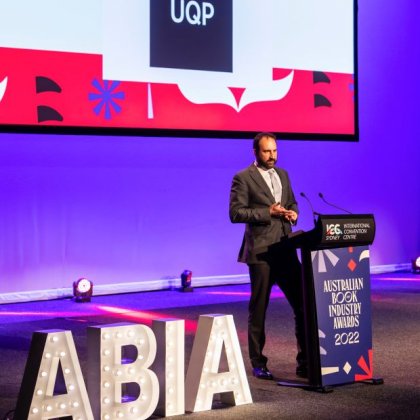 Director of UQP, Ben James said his team has been recognised by the Australian Book Industry Awards (ABIA) for its diverse publishing program, and its strong focus on sustainability and innovation.
"Winning the award in consecutive years acknowledges our team's ability to create strong and meaningful artistic collaborations with authors across the country." Mr James said.
"We are passionate about championing our writers and promoting environmental sustainability and diversity.
"We innovate across our marketing and sales channels, when connecting with readers and when providing support to more broad-based social initiatives.
"Our books are also being read across the world with very strong rights sales."
UQP also took home two other awards.
Evelyn Araluen won Small Publishers' Adult Book of the Year for Dropbear and Nova Weetman won Small Publishers' Children Book of the Year for The Edge of Thirteen.
University of Queensland Press has won or been shortlisted 41 times in major Australian literary awards over the past year.
The ABIAs are judged by more than 250 members of the book industry and recognise success in Australian writing, publishing and bookselling.
Media: UQ Communications, communications@uq.edu.au, +61 (0)429 056 139