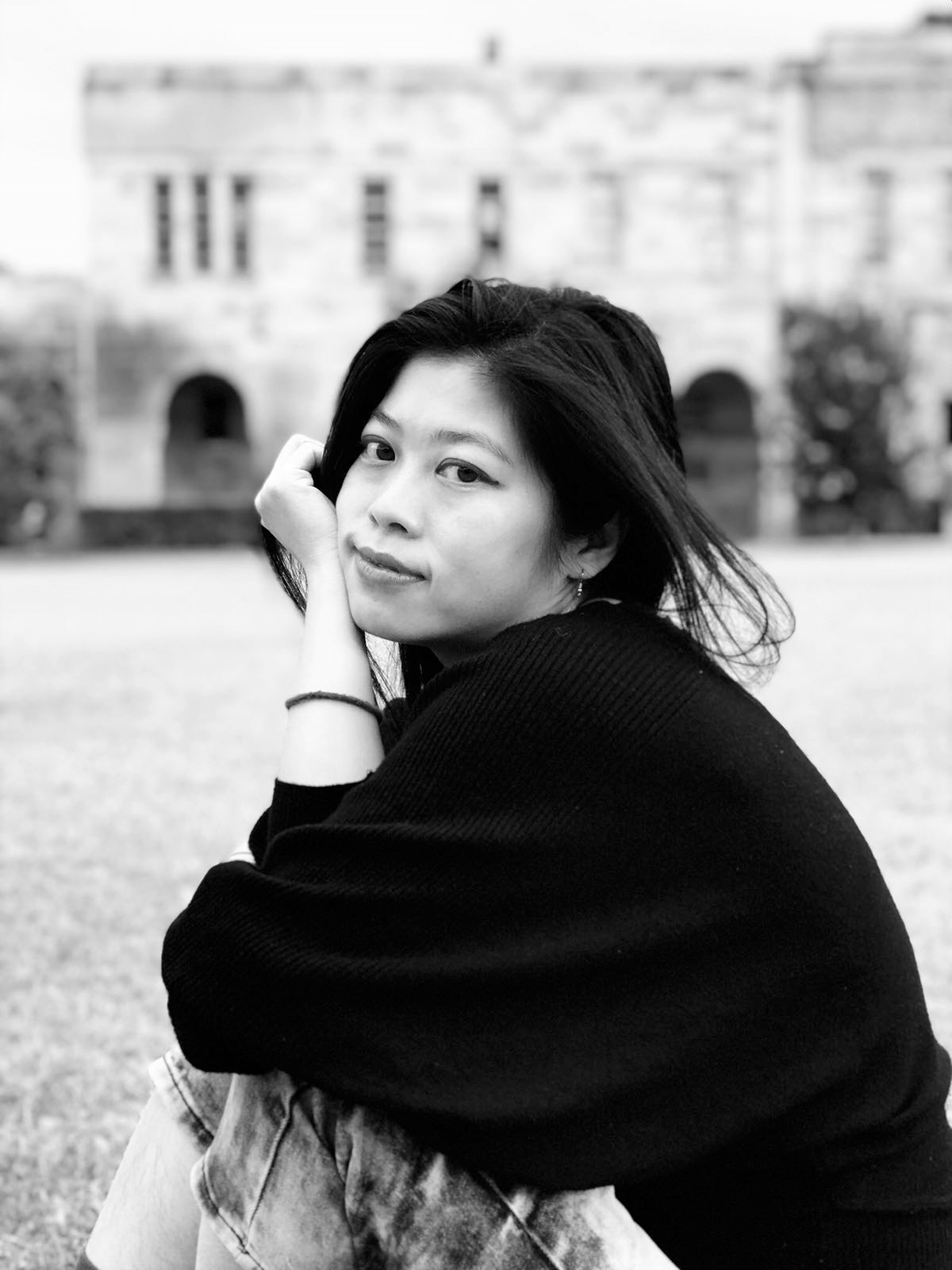 Dr. Stephen Carleton took the opportunity to interview Belle Ling, UQ's Creative Writing PhD, and joint winner of this year's Peter Porter Poetry Prize for her poem 63 Temple Street, Mong Kok. The winners were named at a ceremony in March.
Belle's first poetry collection, A Seed and a Plant, was shortlisted for The HKU International Poetry Prize in 2010. Belle's poem, 'That Space', was placed second in the ESL category of the International Poetry Competition organized by the Oxford Brookes University in October 2016, and she was awarded a Merit Scholarship to undertake a 2-week program of advanced poetry masterclasses at the New York Summer Writer's Institute in 2017. Belle's poetry manuscript, Rabbit-Light, was awarded Highly Commended in the 2018 Arts Queensland Thomas Shapcott Poetry Prize. Belle's poem Grass Flower Head also received Honourable Mention in the Tom Howard/Margaret Reid Poetry Contest 2018.
SC: ​What does winning the Peter Porter Poetry Prize mean for your career, and for you personally?
BL: When I was notified by Peter Rose, the editor of Australian Book Review, of the shortlist, I was very surprised. The Peter Porter Poetry Prize is one of the very prestigious and established poetry prizes in Australia. I felt very honoured. I was an international student who came over to Brisbane to study my PhD in Creative Writing, and I had been always eager to introduce my works to Australian audience. Winning the Prize has given my poetry a platform to reach Australian reader. Most importantly, it has taught me the significance of resilience as a poet. I guess publishing one's own works is always, paradoxically, a desire and a fear—at least to me—as a poet. During my PhD, I certainly attempted to submit my poems to various kinds of literary journals. I had a few successes and yet many more rejections. And I always felt unready. I always wanted to prune and scour my poems to a self-satisfying level of perfection before sending them out. Often, however, infinite procrastination, or stubborn unwillingness to let go confined my poems to my own eyes and palms. This time, when I decided to challenge my perfectionist expectation, and tried to be courageous to send off my poem to the Prize, I was lifted out of my narrow box. I have learnt that as a poet we need to be serious about our writing, but we also need to be adventurous, open-minded, and not to be afraid of any uncertainties. Practically, the Prize aroused the attention of some Australian editors and publishers and that might ease up the publication of my poetry collection. To be honest, the most influential of the Prize to me is that after reading my poem in the award ceremony, some of the audience came up to me, saying that they wanted to weep, or that my poem made them feel hungry. It was the most rewarding.
SC: ​The judges commented on your ability to "reveal something about experience that is new; [to] give us insight into a world we couldn't see, or feel, if it weren't for the poem." Can you tell us a bit more about the 'world of the poem' that you're evoking in '63 Temple Street, Mong Kok', and your very personal observations of it? 
BL: I grew up in Hong Kong. Unfortunately (or fortunately), I am not a Hong Kong aficionado. When my supervisor, Dr. Bronwyn Lea, asked me to write about Hong Kong, I was very resistant. My mind went: "I didn't want to use a cultural bait to attract my readers;" "I wanted to write like a native English speaker…;" "I escaped Hong Kong to go all the way to Australia to make myself closer to the west…". De-HongKong-nizing—this is my poetry. Yet, as I said, as a poet, one of the things is to continue to challenge myself. Near finishing my PhD, I decided to challenge myself to embark on what I dislike—Hong Kong. I started to think: There have been many clichés about Hong Kong, for instance, east meets west, the colonial background, the mainland China's interference, air pollution, insanely populated. Some of them are part of the reasons behind my resistance to the city, but none of them are close to my personally emotional mapping of Hong Kong. What is my Hong Kong? I need to steep myself into the phenomenological underflow of the city with regard to my own sensitivity, as Kevin Hart summarizes Martin Heidegger's "phenomenological attitude": "We grasp not only that something is before us but also the way in which it is present." I immediately thought of Hong Kong style restaurant, called Cha Chaan Teng. It is a place where the locals gather for gossips and networking, a spot where familial history and lineage can be found because of growing affinity with the neighbourhood (as sometimes the grandmas of different families come to chat and befriend each other in Cha Chaan Teng), a catering place where you can find Japanese ramen, Korean bulgogi, Malaysian satay, Sichuan spicy noodles, Western macaroni, Canton wontons and dim sums, Chinese barbequed dishes, and many more varieties. In the poem, I wanted to evoke the city-specific everydayness which is too rich to be captured and too mysterious to be articulated with clarity. The mystery also lies in the workings of our memories: how we remember and how we forget.
SC: ​Do you imagine a particular readership for your poetry? Who does an Australian poet in the early C21st write for? 
BL: In the early twenty-first century, it is a world full of billions of unimaginable opportunities and diversities—technology, human ways to connect and disconnect, innovative platforms to communicate and circulate ideas. The range of readership in this era is no longer expectable. I would say, still, my readers would be usually those who come from a multilingual background, and those who would understand the blossoms of language evolution and innovation coming out of intercultural exchanges. Especially Australia is a country which has a high population of culturally-diverse immigrants, I think an Australian poet has an advantage of opening himself/herself up to interesting multiplicity and complexity of mentalities—which can usually surprise them and let them know more about themselves. I don't think I can say "who" in particular an Australian poet in this century is writing for, but I would say that the poetry that Australian poets attempt can be very mobile, pliable, and versatile.
SC: ​Do you see any distinct patterns emerging in Australian poetry at the moment? Any particular types of voices; or approaches, forms and structures coalescing that you could lay a finger on and say 'this is very much a trend in contemporary Australian poetry right now'? Or the international poetry scene, for that matter?
BL: These are very big questions. I do not think I can take up an authoritative position to articulate the trend. I can try to put forward my very personal observation—which might be wrong, but that is, at the very least, what I perceive. There has been a very strong stream of ecopoetics, meditating deeply upon human-land relationship, while at the same time there are also very new voices shooting up, and they are more adventurous and urban, combining a feeling of dislocation with identity-seeking. The sentiment of displacement is very prevalent in the international poetry scene—the liquid boundaries in gender, culture, language, city, religion, and all these are searching for new definitions and experiences.
SC: ​Is there a particular writer, or a particular poem that has inspired you? Why?
BL: When I was writing "63 Temple Street, Mong Kok," I kept reading Jenny Xie's debut poetry collection, Eye Level, which was the 2017 winner of The Walt Whitman Award of the Academy of American Poets. Her poems portray a very different and unique voice to me. The voice has an Asian tilt in perception. It is difficult to explain. Many of the English poems that I read put forward a difficult reality—divorce, family's trauma, violence, unrequited love, gender distress, and death; but Xie's poetic topics are about a kind of solitude which is very truthful to her everyday life without drama or trauma. Her voice is so refined that melancholy is evoked as silk that keeps sliding off your grip: sadness is here, but it is tender, lingering, and fluid. Her book really inspired me to take on my own voice, that is, I do not need to exaggerate, I just need to dive further into the inside of myself. I do not necessarily need drama for my poem; I need a drastic transparency among my feelings, my experiences, and my poetic language. Xie's portrayal of human sentiment is very delicate. How is the feeling of captivity like? In Eye Level, Xie writes: "Sleep is a narrow corridor. Even idleness will tire, forcing the mind to burrow into its emptiness . . . . It wasn't clear if there was an outside world to our outside world." I learnt a lot from her voice to open up my very deep feelings to more concrete imagery, for instance, my yearning for a no-longer-capturable memory is like an ever-forgotten mobile number, the gyration of a memory is like my palate's cling to certain feral flavours. 
SC: ​How did you discover that poetry was your medium/platform?
BL: I took a full-year undergraduate creative writing course and I fell in love with poetry at once. I have always been excited by art form which marries in-depthness with simplicity. A form as such has eternal grounding. It seems to last forever: it is wide, deep, high, very much beyond human control. I guess I just love the idea that poetry can be so simple and yet so divine.
SC: ​What was your career pathway to this point?
BL: After my bachelor, I went to study a Master of Creative Writing at The University of Sydney. There, I learnt a lot about different forms of poetry and writing approaches from Judith Beveridge. Of course, no doubt, undertaking a PhD in Creative Writing at The University of Queensland is the most significant milestone of my poetry journey. My principal supervisor, Dr. Bronwyn Lea, spent a lot of time discussing every poem of mine in close detail. We talked about what worked and what did not for each poem. And how I should go ahead with different attempts, such as using a different pronoun, reordering the lines, dwelling in the sensual, counting syllables, rethinking the length of lines, sorting out specific meanings…etc. What had been so fruitful and rewarding was that during the time of my PhD I was given endless time to develop my voice. It was very exciting and satisfying to explore the ways to groom my voice—reading Pablo Neruda's love poems and elemental odes, diving myself into the texts that inspired me philosophically, such as the works of Simone Weil, Wallace Stevens, Sharon Olds, Robert Hass, Adam Zagajewski, Henri Cole, Martin Harrison, Martin Heidegger, Gaston Bachelard, Barbara Johnson, Paul de Man, Gilles Deleuze, Susan Stewart. My associate supervisor, Dr. Ruth Blair, also played an important role in training my critical eye, and that strengthened my analytical capability to critique and appreciate poetry. I also attended a month-long writing workshop in the New York State Summer Writers Institute, Saratoga Springs. It exposed me to a range of richly refreshing voices of poets who came all over the States. It had also given me opportunities to learn from the nationally-awarded US poets, Campbell McGrath, Vijay Seshadri, and Henri Cole in the masterclasses. Workshopping injected a different kind of texture into my poetry. Before my PhD, I did a six-week writers' residency, called Playa, in Oregon Outback. It opened my eyes to the aesthetic springs of painters, choreographers, photographers, and of course writers, with whom I had so much life-changing conversation.
SC: ​Do you have any advice for others - particularly young and emerging artists who want to write poetry?
BL: I am still emerging! My advice would be: Be courageous! Be resilient! And have faith! You need to be always ready to learn. Learn how to tackle your weak point. Learn how to be vulnerable in the face of your life struggles. Learn how to turn vulnerability into beauty. I am still learning. Learn how to be not afraid of failures. There are moments you might be overwhelmed by self-doubts, especially, after a considerably or reasonably long while, your writing still does not have the acknowledgment you have been expecting, but you have to recognize that this is what every poet has to go through. As Goethe says, "Everything is hard before it is easy." Hold tight your inner vision. Don't forget your very pure passion at the very beginning when you embarked upon poetry. Be patient with yourself. Besides, keep workshopping your poems with good fellow poets, engage yourself with a network of writers and artists, and most important of all, be a voracious reader of all things!
SC: ​What would you like to have told your undergraduate self in relation to writing and your career?
BL: Be brave to embrace uncertainties. Go adventuring.