University of Queensland professor and proud Wiradjuri woman Anita Heiss has been awarded the 2022 NSW Premier's Literary Awards Indigenous Writers' Prize.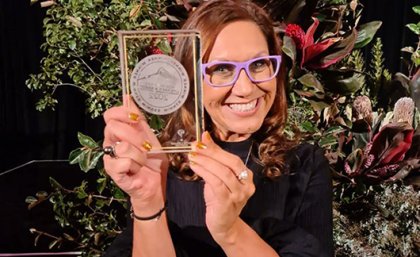 Her critically acclaimed novel Bila Yarrudhanggalangdhuray (River of Dreams) is a story about heroism and homecomings, and opens with the Great Flood of Gundagai in 1852.
Professor Heiss said she had been overwhelmed with gratitude for the accolades the book had received.
"Our work as writers and publishers of First Nations literature is about more than just books," Professor Heiss said.
"Our stories tell our truths in history, they empower First Nations readers and offer the mainstream audiences an insight into our communities through our lenses.
"Importantly, our words are chosen carefully to ensure we are represented to the world the way we see ourselves, rather than through the stereotypical observations that still plague us in the media."
Professor Heiss said this was the first time the title of any commercial Australian novel had appeared solely in an Aboriginal language.
"One friend calls it the Cathy Freeman moment of Australian publishing," she said.
The judging panel for the $30,000 award commented that Heiss' love for her Wiradyuri people and Country shone through the novel.
"Caring for each other and being as one with Country form the ethical bedrock of this novel," the panel commented.
At the presentation ceremony, Professor Heiss acknowledged her Elders and family, and thanked the judges, readers and booksellers who had supported her work.
A professor of Communications, Professor Heiss has written works ranging from non-fiction, historical and women's fiction to poetry and social commentary.
She is a lifetime ambassador of the Indigenous Literacy Foundation and travels internationally performing her work and lecturing on Aboriginal literature.
Professor Heiss is due to travel to Paris in December for a three-month writer-in-residency at the Cité internationale des arts, which brings together artists and allows them to implement a creative or research project.
Bila Yarrudhanggalangdhuray was published in 2021 by Simon and Schuster Australia.
Media: Anita Heiss, 0414 467 849 or a.heiss@uq.edu.au; UQ Communications, communications@uq.edu.au, +61 (0)429 056 139