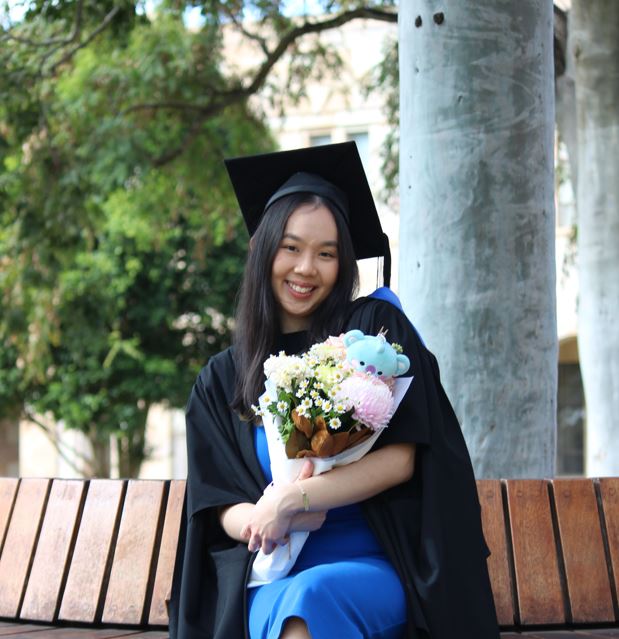 LinLi Wan sits and listens to an enthusiastic retelling of an on-again, off-again young romance, with a complex plotline and nuanced characters. 
Then a bell chimes. Time's up.
A few quick words are exchanged before the storyteller stands, thanks her for her time and moves on to the next table.
It's not speed dating, but a pitching event for budding authors hoping to land a book deal.
And LinLi, a Project Editor at independent publisher, Pantera Press, is in her dream job.
The 24-year-old graduates this week from UQ's Master of Writing, Editing and Publishing, after successfully landing a 'unicorn' role in the notoriously difficult to enter publishing industry.
"I still have to pinch myself to believe I get to do this every day – working in editorial, and for a publisher that shares my passion for diverse voices in Australian literature," she said.
Despite reading manuscripts constantly for work, LinLi still manages to read at least a book a week in her downtime for pleasure.
Her childhood in Malaysia was spent poring over the few English-language children's books she could access and savouring every page.
"I read and re-read my favourites ... my love of stories was cultivated in me from a very young age," she said.
"My mind was blown when I moved to Australia for high school and discovered my local library – I was bringing home stacks of books and couldn't get over that I didn't have to pay for them!
"That kind of access to literature is a privilege not everyone has, and I very much do not take for granted."
LinLi completed a Bachelor of Arts/Laws at UQ after high school, double majoring in English Literature and Writing, but said her heart was set on publishing.
"The only '7' I managed in my Law degree was for my final Honours thesis – an analysis of reversion rights in publishing contracts," LinLi said.
LinLi said she was told the publishing industry was notoriously difficult to get into, especially as a woman of colour.
"But I wanted to see more people like me on the pages of the books I loved," she said.
"I was committed to seeking out a career that would allow me to amplify marginalised voices in literary spaces."
She enrolled in the Masters program in 2021, while also setting about getting as much experience in the field as possible.
"I got a job in a bookshop, volunteered as an editor for the literary journal, Voiceworks, worked as a literary agent's assistant at Alex Adsett Literary, and interned at various organisations, including Brisbane Writers Festival," LinLi said.
"I started applying to publishers last year, more for practice than anything, and incredibly I ended up getting offered two jobs and an internship."
LinLi's start at Pantera has been stellar, already having found a manuscript in Pantera's 'diamond mine' of open submissions, known elsewhere as the 'slush pile', that is now set to be published in 2024.
"It's pretty incredible, and I love that my job is reading and getting to talk to and discover authors," she said.
"I've worked pretty hard to get here but I still can't help but feel so lucky."
UQ will host 10 graduation ceremonies in July for 4000 students, including mid-year graduates and those unable to attend previous ceremonies during the COVID-19 pandemic.