From the Director 
Hello, and welcome to our new site for the Centre for Critical and Creative Writing (CCCW). The Centre sits within the School of Communication and Arts (SCA) at UQ, and I'd like to acknowledge the work my colleagues Stuart Glover, Dolores Element, Bronwyn Lea, Jason Jacobs, and David Carter have undertaken in setting it up.
The Centre exists to promote, highlight and celebrate the critical and creative writing that staff and students in our School produce. Writing, in its many forms, is our core business. As we state up front, the University of Queensland is one of the best places in Australia to either become a writer or to think in a critical way about writing and literature. The University is ranked above and well-above world standard in the study of creative arts practice and literature. We are home to creative writers across the spectrum (including prose fiction, poetry, drama, creative non-fiction) and in a range of different genres (fantasy fiction, Australian gothic, crime writing, and writing for young people, to name just a few). We are also home to highly esteemed journalism, communications, and professional writing and editing programs. Our list of high achieving alumni runs deep. (Check out the 'Our Writers' link!) And of course, our critical research writing is world class, with generations of stellar scholars having established longstanding international reputations in literature, drama, film and television, cultural studies, art history, Australian studies and a swathe of other related disciplines.
The Centre and its website will draw attention to the successes, collaborations, opportunities and events that are generated by the deep pool of talent we house within the School. We will also generate events that the wider community and future students and scholars may wish to attend. We've just kicked off the Centre's activity for 2019 by collaborating with the School of Languages and Cultures and the Alliance Française to host a conversation with legendary French journalist, Annick Cojean. It was a great night – you can listen to the podcast on our website – and we hope to bring you many more like it over coming months and years. We envisage hosting book launches, presenting panels, symposia and conferences on state-of-the-art topics relating to critical and creative writing in Australia and beyond, and offering guest speakers, masterclasses and roundtable discussions by visiting Fellows to the School of Communications and Arts. We are forming industry partnerships with the University of Queensland Press, the Brisbane Writers Festival, AustLit and the Fryer Library to broker this suite of activities. So stay tuned, and keep checking in on the site as we build our bank of event and podcast notices, and news of forthcoming activities over time.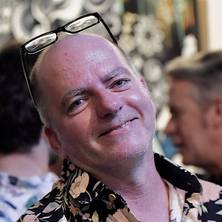 And if you think you might like to come study with us – whether you're a novelist, a poet, a playwright, a screenwriter or a journalist; whether your area of specialisation is children and young people's fiction, fantasy, creative non-fiction, arts criticism, or dramaturgy – drop us a line, or use this site as a portal into the School's wider information bank.
Warm regards,
Dr Stephen Carleton