Corella Press launched their first titles – and the press itself – at Avid Reader bookshop in Brisbane's West End on Friday 30 August.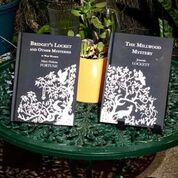 Corella, a not-for-profit boutique press run out of the School of Communication and Arts here at UQ, is spearheaded by their Director, Associate Professor Kim Wilkins, and Publisher, Meg Vann (pictured). Wilkins and Vann provided editorial internships to the press for students enrolled in the Writing, Editing and Publishing program, who in turn produced the handsome hardcover editions of lost and forgotten nineteenth-century Australian crime novels, originally published in serialised form in newspapers from the period. Kathleen Jennings provided illustrations for the covers of the inaugural two publications: Jeannie Lockett's The Millwood Mystery, and Mary Helena Fortune's pseudonymous Bridget Locket and Other Mysteries by Waif Wander.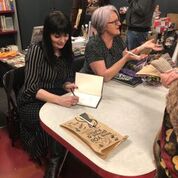 Speaking at the launch, Associate Professor Wilkins described Corella Press taking its name from the raucous birds that gather socially on the lawns by UQ's lakes as being "playful, disruptive and inclusive": an ethos the team incorporate into the publishing venture. Publishing pleasurable genre books, and remembering some lost pioneering female crime fiction writers in the process, are playful and inclusive acts of disruption in themselves!
It was a terrific night, launched officially by guest novelist, Mirandi Riwoe. The students were visibly proud of the effort – and extraordinary work integrated learning undertaken – in publishing the work, and Vann and Wilkins outlined plans for a further two nineteenth-century Australian crime and mystery publications for the next intake of WEP students. Copies of the Lockett and Fortune editions can be purchased via the AustLit hosted link: https://www.austlit.edu.au/austlit/page/14515442.